Karachiscape: Part 1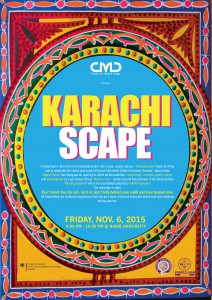 For Karachi, with its black, white and grey…
On 6th November, Habib University's Centre for Media and Design, in collaboration with the Consulate General of the Federal Republic of Germany in Karachi, hosted "Karachi Scape" which fused all forms of art to portray the culture and chaos of Karachi through the eyes of her artists.
It was a multimedia event with film, music, poetry, dance and photography. The evening was designed by Karachi-based artist Sajjad Ahmed. The event took place in different locations around Habib University's beautiful campus. It was open to public and attracted young and old alike who came to celebrate Karachi. As soon as the night drew in, people started filling in the amphitheater, where much of the activities took place.
The evening began with "Welcome" speeches by Dr. Markus Heidingsfelder, Assistant Professor of Media Studies at Habib University, and Mr. Rainer Schmidchen, Consul General of Germany. Then Dr. Heidingsfelder's drive-by silent documentary "Reading Karachi" was screened which showed different streets of Karachi at different times of the day. The documentary captured the mornings and evenings of this ever so diverse city, but it mainly showed areas afflicted with poverty which no doubt are major parts of the city. Mrs. Mukhi, one of the audiences, said that she loved it but would have appreciated the documentary more, if it showed the greener, more appealing side of Karachi as those beautiful green lanes or drive by sea view are also a part of the city's life. One cannot ignore the fact that Karachi's beauty is its diversity so perhaps Mrs. Mukhi is right in believing so.
The celebrated author Ms. Saba Imtiaz also recited her piece on Karachi in which she described how Karachi has shaped our lives and how we shape Karachi. It was interrupted by a small bout of power failure but then again, who can imagine Karachi without its load shedding. Imtiaz was so kind to give me her time, and she candidly discussed about her perspective of Karachi, while we enjoyed the film screenings. Talking about "Reading Karachi", she opined that the documentary depicted life in Karachi but the city is so fragmented with some parts filled with elite residents and some with squalors, one cannot really show the whole of this city in one film. There will always be parts which will remain untouched.
Then there was a screening of another documentary which was by Ali Rizvi, a student at Habib University. His documentary, titled "The Soul of Karachi", was screened with a live classical music performance by celebrated Pakistani musicians, Nafees Ahmed Khan and Ustad Bashir Khan, from NAPA.
The latter part of the evening was devoted to performances by breakdancing group "We Are One" from Lyari. With their dance in luminous LED suits, robotic moves and iconic Bollywood songs, they became a crowd favorite. On talking to the troupe's teacher and lead performer Mr. Furqan Raja, I got to know that the whole troupe was grateful for the love, applaud and acceptance they received at the Habib University. He said that it felt great to be appreciated by the audience, when their troupe started off, they never thought they'd be given such a large platform where people from all over Karachi would come to watch them. He wanted Karachi to know that just because he is from Lyari, it does not mean that he is also one of the gangsters from that area; Lyari is a place with budding talent and people of Karachi need to realize that and accept them. He wants to portray a positive image of Karachi through his dancing talent.
For the city of lights, of chaos and fights,
For the city that never sleeps and its awake nights.
For the city where the mornings and evenings have bustle alike,
with the sound of sea, busy bazaars and vrooming bikes
A city which houses people poles apart
those who visit 'lunda' bazars and those who buy from super marts
A city which grows every passing day,
This is for Karachi, with its black, white and grey.
Karachi has seen decades of political violence and Karachiites have forgotten to admire the beauty of this city which has been disfigured by much smoke and fire. But Karachi stands strong, resilient yet ever-changing. It was a great initiative by Habib University to portray Karachi as it really is, with all its imperfections yet captivatingly beautiful, and what better way to do it than to show it through the works of Karachiites, themselves?
By Hunza Irfan