Karachiscape: Part 3 – Slam Poetry
Rickshaw vrooming. Children playing. Bun kababs frying. Scooter whizzing past. The crowd twittering. The music booming in the distance. Bright lights against a black sky with purple clouds. Glossy photographs. Sounds of city all around, and yet you're not in the city exactly. Welcome to Karachiscape—a night of everything Karachi at Habib Uni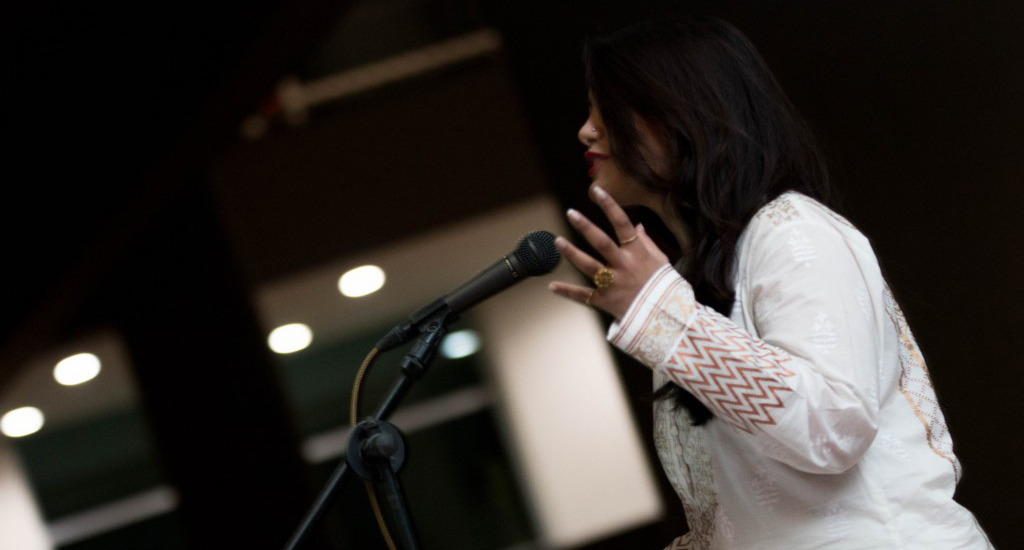 versity. And amongst this vivacity, away from the noise, hidden away was the Slam Poetry corner. Keeping in line with the theme of Karachi, the Slam Poetry corner offered the audience an evening to experience Karachi through the words of six very talented poets: Shameneh Majid, Fatima Hamdani, Sana Gondal Rizwan, Areesha Khuwaja, Zoha Jabbar, and Hamza Arif.
The mushaira style seating layout, complete with white sheets and gao takiyas, set a relaxed mood, as the audience settled down. Sticking to the bare necessities, with a modest stage and a mic and scenes of Karachi streets were projected on the wall in the background, each of the poets offered a different perspective on the city we all know and love, despite the difficulties it presents when one tries to do that. And it seemed to me that each poet seemed to feel that way, for each poet incorporated these difficulties into their poetry beautifully.  Ms. Majid was the first to perform, flanked by phone flash lights in the front row (as the lights had yet not been switched on). Her poetry shone even more, evinced by the attentiveness of the crowd, and the support they offered her in the less-than-desirable circumstances. Her varying voice helped to convey the varying emotions that a city like Karachi tends to evoke:
[…] A city of religion and sin
In a limbo they exist
A tango they perform: too close for comfort but never far apart;
They dwell together in houses and streetcorners
In brothels and in mosques
In mazaars and bazaars
In the street and in homes
So easy to get lost.

[…]
A city of heroines and heroin,
Forget what you can't
With the array we have on display
Whether you view or consume
Inject or ingest
Sniff or swallow
We have the cure for your sorrow.
A city of noise and music and culture galore
Where woman is god and man a whore;
Just veil your intentions when you walk out the door. […]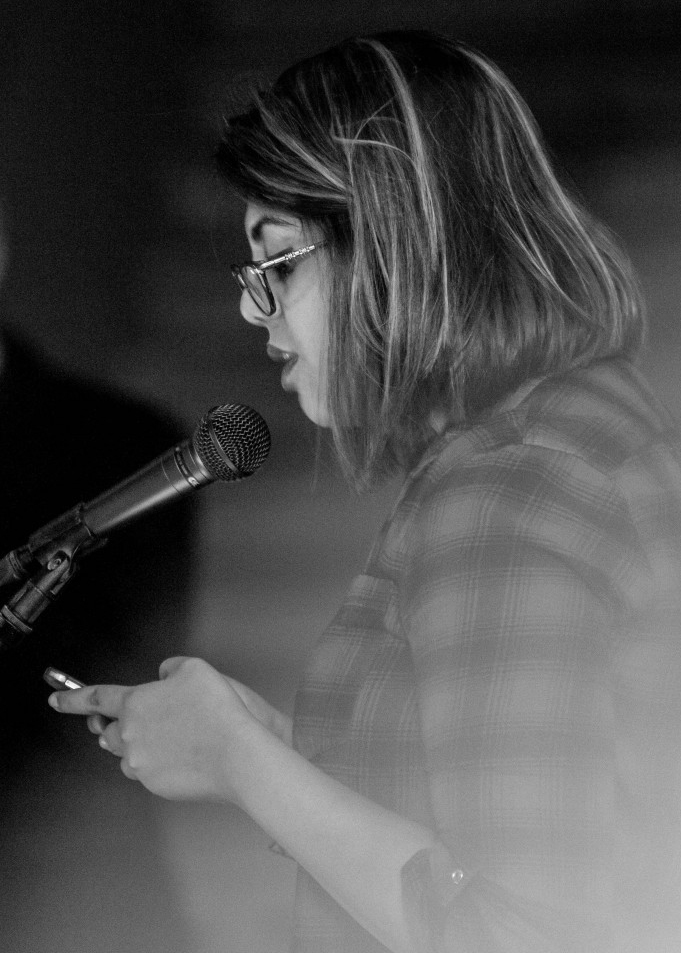 Next, we had Ms. Gondal, whose casual style formed a familiar connection with the crowd, as she performed a poem which infused humour and reality effortlessly with English and Urdu, and Karachi-centric puns:
Karachiscape
Karachi is an escape, it's in such poor shape,
Oh Karachi, Karachi, my home Karachi, 
Mai Kolachi, 
You're killing me Karachi,
Agr Ayesha manzil nahi hai,
Tho koi baat nahi Karachi,
Yahan Islam ka theka liya hua hai,
Yahan hai Allah wali chowrangi, […]
Ms. Hamdani followed, with a firm, defiant posture, and a firm voice which kept hold of the crowd as she performed her piece, which beautifully and appropriately presented Karachi as a book—as a story:
This city,
This city has a story,
Not yet completely finished,
Not yet completely read […]
The binding is made of seaweed and rosary beads,
This city,
Runs faster than the blood in our veins,
It is a passion,
It is a sense of overwhelming desire to contemplate […]
Ms. Khuwaja followed, taking time out from displaying her photographs, with a raw poem that spoke from a very individual and relatable perspective:
[…] Karachi will astound you,
With its strength to get back up yet again,
And you see, Karachi is not just my flesh and bones,
Karachi is stronger than your sticks and stones,
But everyday Karachi runs in my blood, […]
You see how this city is a lot like me, 
Or you say I am a lot like this city.
Next we saw the performance of Ms. Jabbar, who performed a beautifully strong, female-centric piece, which (it should be mentioned) she wrote on that day:
[…]This city is not mine – my body is not mine
They watch me like they watched Kolachi
Keeping count of my steps, watching me
Claiming ownership of me
I was born to remain indoors because if I venture out
They'll get me, for they own me
This city is not mine – my body is not mine
But this city IS mine, and this body is not yours
And Mai Kolachi is
My Kolachi and
My Karachi.
The city will not forget my body
But I will remember too.
Mai Kolachi
My Kolachi
My Karachi
And lastly, closing off the evening, was debutant Mr. Arif. Mr. Arif's poem was interesting because of the time upon which it spanned. The first half was written when Mr. Arif moved to Karachi three years ago; the latter half three days prior to the event. Describing Karachi in every way possible, from every possible perspective, his poem mixed humour and reality much like this city itself: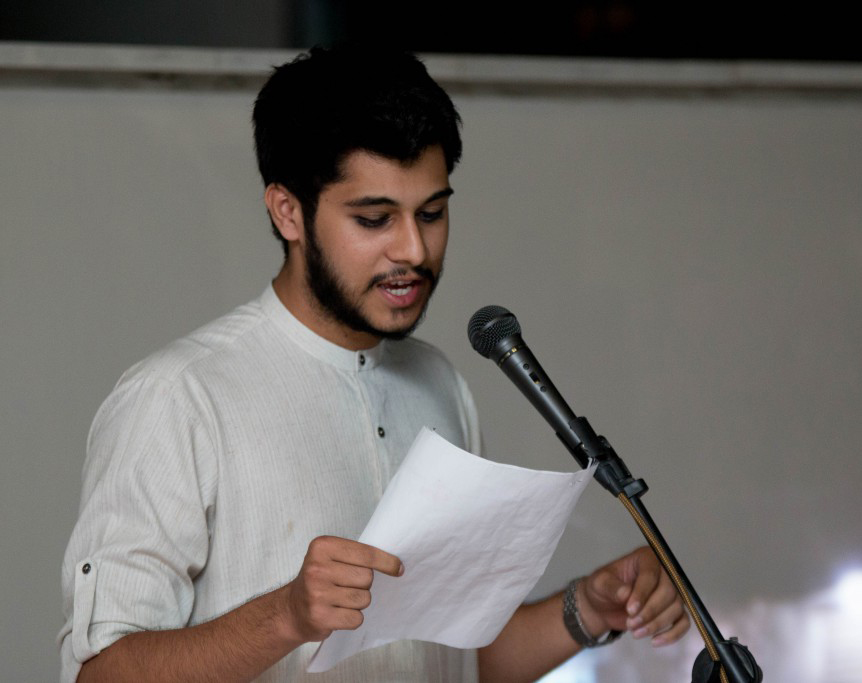 […] This is for the Sharifs,
Who happen to be not quite sharif,
For the kids who see opportunity in the hartals,
By playing cricket on the streets just a few feet away from the smell of burning tires,
This is for the fire that is in us all,
This is for the lotas who toss themselves around like a ball,
This is for BB,
And her for-profit non-profit income support programs[…]
This is for the people who feed beggars healthier than themselves,
This is for the people who make films about transgenders (thank you Ali for that), […]
This is for Baba Ghazi who protects us from cyclones,
This is for all the truckers and all the truck artists,
This is for every moment that this city expands, grows and colonises,
Just to make sure that there room for everyone […]
And it ended on that cool night with a warm roar of applause, leaving the audience with a similar warm feeling about their city, despite its imperfections. As I left, I heard how refreshed people were by the poetry; how they're love for this city has been revived. And then I decided to approach the poets about how they felt about the experience. Ms. Gondal said: "I expected it to suck; that no one would be able to hear me; that I would blunder it up; that they'd think my Urdu poetry was lame; that no one would get the joke, etc.I was very, very, very happy with crowd reaction. It was courteous and wonderful and full of positive energy. Great feeling.
I'm not sure if they got the message, but I wasn't really trying to declare one either. I think they enjoyed most of the poetry, and that's what I was mostly concerned with". Ms. Majid echoed similar sentiments of surprise and happieness: "I was expecting a sort of a mela, to be honest, except I LOVED whatever was done.
I feel like people did understand our poetry, which was all fantastic, if I do say so myself. The general feel of it did come through since none of us were being negative, just slightly morbid. I had a great time and loved how the crowds reacted, except I wished there were more people so we could have performed more than once".The fact that Karachiscape was a success for everyone, in their own little way, is reflected in how the event left everyone happy about a city that can make you equally sad. And the poetry contributed to that, because it reminded everyone why this city is so intertwined within us, despite whatever, however it may be. It reminded everyone that Karachi, as Ms. Majid said in her performance, is "A city where… you find yourself by losing yourself…"
Text: Mushba Said, photos: Mohammad Hamza Alam