"Mirai no Matsuri": Roppongi Art Night 2017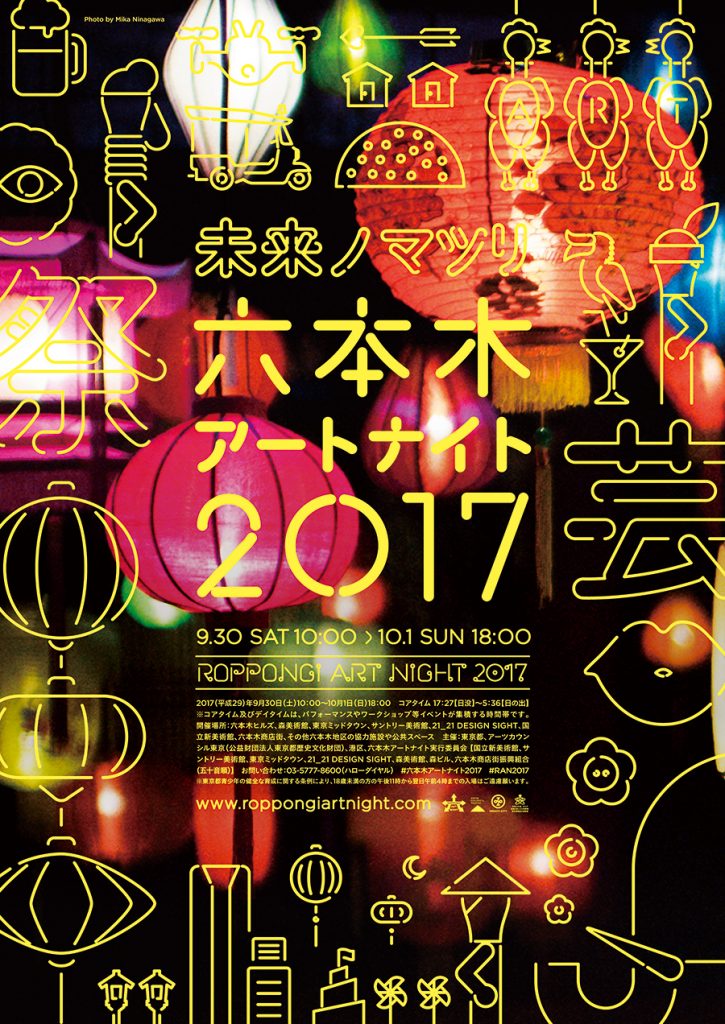 The Roppongi Art Night Executive Committee will be hosting Roppongi Art Night 2017 for 2 days on September 30 (Sat) and October 1 (Sun), 2017.
Roppongi Art Night is a one-night celebration of art staged in the district of Roppongi. A diverse range of works including not only artworks but also design, music, video and performance pieces are dotted around the Roppongi neighborhood with its high concentration of retail stores and cultural institutions, creating an extraordinary experience, while proposing a lifestyle that celebrates the enjoyment of art in everyday living. Bringing art and street together as one will also enhance the image of Roppongi as a cultural hub, and offer a trailblazing example of neighborhood initiative within the vast metropolis of Tokyo. Roppongi Art Night will continue to develop as the capital's premier art festival.
This year's Roppongi Art Night 2017 will be featuring art and performance from around the world, including many from Asia, proposing a new creative form of 'matsuri (festival).
What comes to mind on hearing the word 'matsuri (festival)'? The general definition for matsuri is 'the act of praying to or worshiping a deity or ancestors to give thanks or to comfort the spirit'. However, in recent years, music festivals and art festivals are all considered a matsuri. What all of these have in common is that people gather to share an experience and pass on cultures to future generations and is a communication platform.
Main Artist: Mika Ninagawa
Photographer and Film Director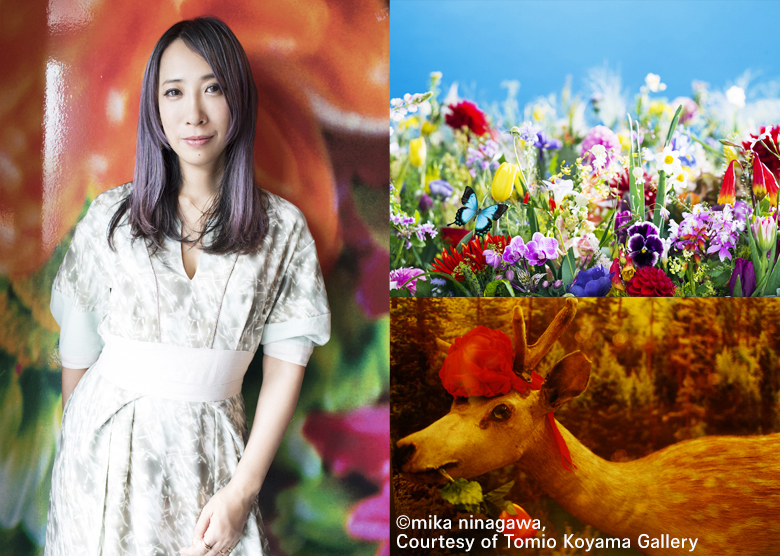 She has received numerous awards including the renowned Kimura Ihei Award. Films include 'Sakuran' (2007) and 'Helter Skelter' (2012). Her 2008 solo exhibition toured art museums throughout Japan. Published a photo book from Rizzoli N.Y. in 2010, and her solo exhibition at MOCA Taipei(2016) broke the museum record for attendence number. Appointed as one of the executive board members of the 2020 Tokyo Organizing Committee of the Olympic and Paralympic Games.
In addition, Roppongi Art Night will be launching the 'Southeast Asia Project' in which artists from Southeast Asia as well as Japanese artists will work together with the Roppongi community and its people to create and present art.
Overview of Roppongi Art Night 2017
Official Title
Roppongi Art Night 2017
Overview
Roppongi Art Night is a one-night celebration of art staged in the district of Roppongi. The event proposes a pioneering model for urban development as well as a lifestyle that celebrates the enjoyment of art in our everyday lives. Presenting modern art, design, music, film, and performances, Roppongi Art Night offers a surreal, extraordinary experience. Launched in March 2009, the event is growing every year.
Time and Date
September 30(Sat) 10:00- October 1(Sun)18:00, 2017
<Core Times> September 30(Sat) 17:27(Sunset) – October 1(Sun) 05:36(Sunrise)
*Core times is the period with the highest concentration of events with many performances and workshops held.
Venues
Roppongi Hills, Mori Art Museum, Tokyo Midtown, Suntory Museum of Art, 21_21 DESIGN SIGHT, The National Art Center, Tokyo, Roppongi Shopping District, other cooperating facilities and public spaces in the Roppongi area.
Admission
Free (however, fee is required for certain programs and museum events)
Organizers

Tokyo Metropolitan Government, Arts Council Tokyo (Tokyo Metropolitan Foundation for History and Culture), Minato City, Roppongi Art Night Executive Committee [The National Art Center, Tokyo, Suntory Museum of Art, Tokyo Midtown, 21_21 DESIGN SIGHT, Mori Art Museum, Mori Building, Roppongi Shopping District Association]