The Art of the Asymmetrical Perspective – Interview with Subekti Priyadharma, author of "Media and Transformation in Germany and Indonesia"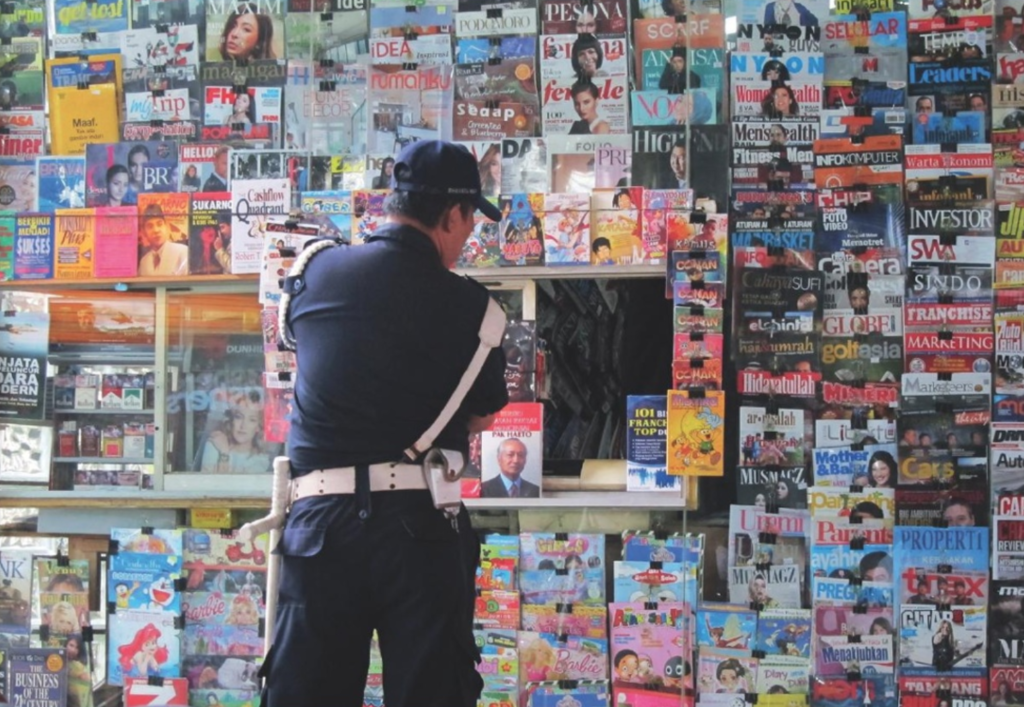 Hi Subekti, thank you for agreeing to this interview.
Hello Khai. Thanks for having me!
Congratulations to your new book. Besides the reason of structural similarities, is there any other reason why you chose Indonesia and Germany as your research subjects?
Well, we mention this in the book's introduction …
Sorry, I wasn't able to get it yet, which is why this interview is a little odd. But I was just so interested in what you have to say there.
No worries. So we mention in the introduction of the book that Germany and Indonesia don't share collective memories about major world events such as the Second World war for instance. That means, the other reason is precisely because of the differences of field of experience that most Germans and Indonesians have in seeing each other. For example, many Indonesians don't see Hitler as a war criminal and people can still see, to this day, Nazi symbolisms in public at everyday activities. Some even idolize Hitler as a hero for his mistreatment to the Jews.
The same is true for many people in Pakistan. That's the Muslim background I guess.
Indeed, that seems to be the factor here. Meanwhile, the general conception of the Germans about the same event is totally different. The same can be said about the 1965-1967/8 civil unrest in Indonesia which saw hundreds of thousands – some sources even say up to two million – communists followers murdered or disappeared. The frame of thinking about that event is different in Indonesia and Germany, which is influenced by how the media/the state narrated it. This can lead to prejudices and stereotypes which can have negative consequences because most people don't have direct experiences with the other social world. The imbalances of media coverage about each other's social, political or cultural situation don't help either.
You try to bridge this gap.
Yes, exactly. It is therefore similar and different at the same time, which brings us to the term we use: "asymmetry".
That's what I wanted to ask you about. Can you elaborate a little on the term 'asymmetry'? And what would be a symmetrical comparison?
It is simply that people tend to see, at first sight, Germany and Indonesia as two countries with opposite characteristics and even justify it with binary oppositions such as North/South, West/East, Christian/Muslim, individualist/collectivist, developed/developing countries. People often take for granted that this is true and apply it to evaluate many social, political and cultural phenomena. This simplicity can be misleading as we don't really know whether they are "apples" and "oranges", hence the comparison.
I never understood why people don't want to compare apples with oranges. I think one can compare anything with anything. So a symmetrical comparison would be comparing apples with apples? That's not very informative, is it?
(laughs) Well, from a popular view, it would be comparing two or more countries/societies with a similar cultural or historical background. From this point of view, comparing Germany and Indonesia is indeed asymmetrical, as if one country is in a certain position in the world's map, for instance Germany being in the center and Indonesia in the periphery. However, we are saying that center and periphery are contextual terms, which means that both countries can become the center and periphery at the same time. Just look at the fact that Indonesia has a bigger social media use than Germany, for instance. This perspective leads us to the thinking that in some dimensions, the comparison can be symmetrical. And this is my position in this "asymmetrical thinking." I think this applies to Malaysia as well with regard to its relations with, for example, the British or other ASEAN countries.
Where do Indonesia and Germany show the biggest similarities when it comes to media?
Both rate the profession of journalist highly and Indonesian and German journalists are mostly well-educated – take a look at the article by Rochyadi-Reetz & Löfelholz in the book. Media in both countries have a crucial role in influencing political discourse and decision-making, so the relationship between media and the political system is highly important. However, while in Germany it is the public broadcasting institutions and traditional newspapers which take the role as the reference point for the construction of public opinion, in Indonesia it is the private media, particularly television, which dominate the public sphere. In both countries, alternative public spheres such as social media are also pretty much alive as counter medium to challenge the mainstream mass-mediated public sphere.
That's true. I did some research on LGTBQ platforms here in Malaysia, and I was impressed by the richness and variety of these 'counter media'. Of course the government tries to restrict them, but they seem to do it mostly to appeal to the mainstream Muslim voter, while in reality there is quite a lot of freedom … In the summary of your book, you say that Indonesia is in a process of continuous societal transformation. Isn't that true for any state? Why did you point this out – and relate it to the fact that it is "the largest Muslim population in the world"?
Yes, it's true for any state. That is precisely the point. I'm pointing this out because we, particularly Indonesian people, tend to be trapped by the narrative of developed/developing countries, West/East, etc. and forget that every state is "developing" as well. This kind of static thinking isn't constructive because it leads us to think that we should follow other countries (in the West) for the development of our nation. It is a way to free our Indonesian mindset from the post-colonial thinking of inferiority and dependability. "Largest Muslim population" is a way to compare it with the German religious/cultural background. It is there to emphasize the "asymmetry."
Are the media literacy rates of both countries similar? And in how far did that affect the results?
The media literacy rate is different. Again, you can refer to Rochyadi-Reetz & Löfelholz in our book who say that in average the media literacy rate in Germany is better than in Indonesia. These differences affect the level of trust in the media, with the Indonesian audiences showing more trust in the media while the German public is generally more critical toward the media.
It seems you are happy about the 'increasingly consolidated democracy' in Indonesia. Do you think every state should be democratic? Aren't other forms maybe also imaginable, even desirable?
No, I'm not entirely happy about the current state in Indonesia in relation to how our democracy unfolds. But if we compare it with the political situation prior to the Reformasi – during the Suharto or New Order era -, many aspects, particularly regarding civil participation in the political sector, are better. In my opinion,every state should be democratic, but democracy doesn't have a single and solid definition. That is why there are many forms of democracy at the practical level. The most important point is the compliance to the UN charter of human rights, which is also ratified by Malaysia – so it's not ethnocentric. Other forms of statehood are not desirable if they don't regard human rights as a basic principle of democracy. And this is materialized in the form of general elections. Without – direct – elections we cannot know what a country or a culture wants politically.
You ask whether the media 'follow' or 'lead' the changes in political systems and societies – what is your answer? My assumption is: Both of course. But how exactly? Is there an asymmetry between following and leading, too?
If we put the media as a part of the national political system or part of society, then from the system perspective I can tell that any changes in every part of that system – e.g. new media policy – will affect other system's parts and the system as a whole. The political turmoil in Indonesia that led to the Reformasi in 1998 was hugely impacted by media practices which were determined to deliver day-to-day reports of the people's movements. It was previously impossible. On the other hand, post Reformasi Indonesia was characterized by the new and more freely Indonesia's media environment, which was the result of political transformation. So in this case, I don't think "asymmetry" is the right term, but we can picture the media and political system as "interdependent". Unless, if we take the relationships between media, state, and other political actors – i.e. political party, pressure groups, NGOs, civil society – into consideration, then there might be some degree of asymmetry depending on how dominant they are in the system.
So what role does religion play in your book?
We consider religion as one among many attributes, which characterizes Indonesian/German society. Religion takes its significance mostly in the second section of our book where we discuss about media representation and racism e.g. the representation of Islam in the German media or of Chinese-Indonesian – mostly Christian – in the Indonesian media. It deals with how the minority within a society is pictured in the mainstream media.
How do you relate religion and media – and how do these relations differ in Indonesia and Germany?
Generally, religion plays an important role in virtually all facets of the daily life of the Indonesians, but not so much for the Germans. This holds true for media routine as well. Religion becomes significant in Germany only when it is linked with other issues which directly affect the society or the state as a whole, for example politics, economy and security. The issue of religion tends to be politicized and discussed in the mass communication public sphere when it has political consequences, for instance during elections, economical consequences, e.g. in relation to citizen taxes which are used to finance aid for refugees from muslim countries, security – e.g. terrorism, radicalism – or legal consequences in terms of sharia law.
You have stated that you hope your book can encourage the countries to learn from each other. How exactly do you imagine this process to take place?
By learning from the similarities and not only from the differences these two countries have, by doing direct comparisons from as many dimensions as possible, by making direct contact and building cooperation with each other and by acknowledging the voices of local scholars who know better about the situation in their respective countries.
The majority of Germans seems to have difficulties accepting our – Muslim – religion. What could – apart from the fundamentalist terror – be the reason?
It is because most people, regardless of their nationality, don't have direct experiences in interacting with people from different cultural or religious backgrounds. The stereotypical knowledge they possess about the "others" are mostly mediated, be it narrated from generation to generation or they are exposed with incomplete pictures about the "others" from the media.
Let's hope that your book can challenge these stereotypes a little and maybe even contribute to a change in perspective. But as not too many people are reading books anymore, let alone scientific ones, I think it is also important to spread your message via online media like this one. Thank you for this interview – and thanks for having undertaken this important research. Looking forward to many more 'asymmetrical' studies from you and your co-researchers! Please give my regards to Kai Hafez, Anne Grüne and Sabrina Schmidt.
Thank you, I will.
Interview: Yap Khai Qing (with a little help from Arqam Khan and Markus Heidingsfelder)