Virtual Conference on Critical Theory, 24th October 2020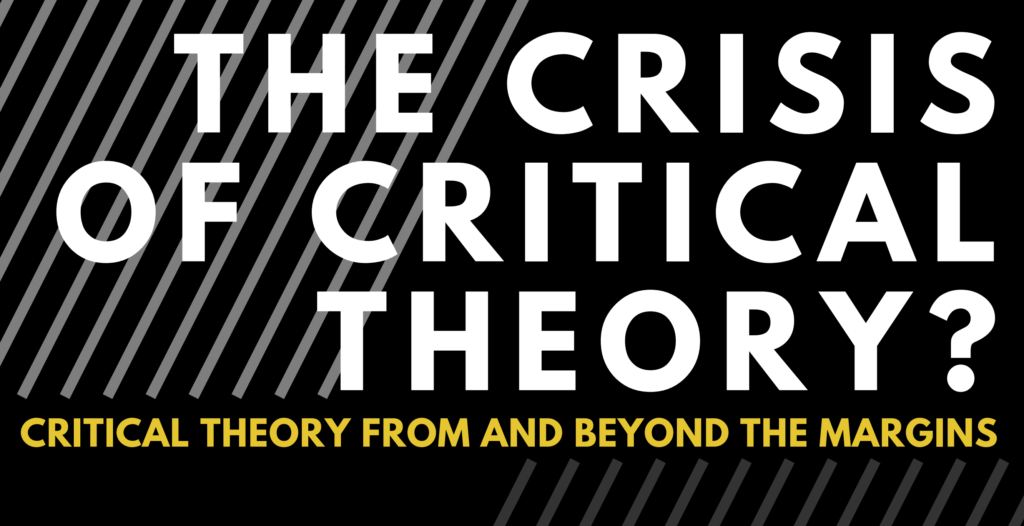 Critical theory is a Western, and distinctly European, intellectual tradition that drew its normative resources from the social and political events that transpired in Europe over the course of the 20th century. It is relevant to ask the question whether, as a critical-practical tradition, critical theory has anything to contribute outside the Western-European context, given the emergence of globalization and the issues that arose with it. For some, the Eurocentrism of critical theory is symptomatic of its very own crisis, one which challenges the universality of its normative claims, e.g., the abolition of social injustice. Is it possible for critical theory to overcome its Eurocentrism and, therefore, its own crisis? The irony is that critical theory is only able to defend the universality of its normative claims when it is able to renew itself. If it is at all possible to renew critical theory, what does this renewal entail? The workshop will pursue these questions by expanding the scope of traditional critical theory, especially, but not exclusively, by drawing on critical perspectives on modern societies and emancipation movements that have originated in Asia.
While critical theory has asserted its role as the vanguard of protecting the interest of the oppressed, the pursuit of justice, and the abolition of domination and alienation in society, the question of who is the oppressed, what is justice, and who and what is dominated or alienated remains prevalent. The need to revise, re-align, and remap the trajectories of critical theory becomes an essential call to arms as we continue to experience injustice, domination, and oppression in new forms that displaces our traditional ideas of justice, domination, and oppression. From this vantage point, there is a need to move critical theory beyond the margins of its intended scope and look at the possibility where future discourses in critical theory can become juxtaposed in pursuit of its intended normative goals. There is a need to renew, revisit, and revise existing conceptions of social justice when its possibility entails contrary effects.
24 OCTOBER 2020, SATURDAY | 10:00 AM TO 6:00 PM (UTC +8)
ZOOM MEETING-ID: 976 4344 1616 | PASSCODE: 241020
HTTPS://UMAC.ZOOM.US/J/97643441616?PWD=BTJYBLH5NMTNSDFFA2NML285WDJLUT09
Program:
Morning session, 10:00am
"Critical Theory at the Margins" Paolo A. Bolaños, University of Santo Tomas
"Filial Piety vs Critique of Blood Vengeance" Lee Tingmien, University of Macau
"Critical Theory and Tradition" Jovito V. Cariño, University of Santo Tomas
Moderator: Christine Tan, University of Santo Tomas
Early afternoon session, 01:15pm
"Profile Politics: A Critique of the 'White Left' (bai zuo ⽩左)" Hans-Georg Moeller, University of Macau
"Critical Theory and Recognition" Roland Theuas Pada, University of Santo Tomas
"Critical Theory and Revolution" Raniel Reyes, University of Santo Tomas
Moderator: Ranier Abengaña, University of Santo Tomas
Late afternoon session, 04:00pm
"Critical Perspectives on National and Civilizational Identities: Solidarity and Enthusiasm" Daniel Sarafinas, University of Macau
"Free Fall: A Hegelian Critique of the Gambling Rabble" Mario Wenning, University of Macau
Moderator: Anton Rennesland, University of Santo Tomas
Organizers:
THE DEPARTMENT OF PHILOSOPHY AND RELIGIOUS STUDIES FACULTY OF ARTS AND HUMANITIES UNIVERSITY OF MACAU MACAU, CHINA
and
DEPARTMENT OF PHILOSOPHY FACULTY OF ARTS AND LETTERS UNIVERSITY OF SANTO TOMAS MANILA, PHILIPPINES